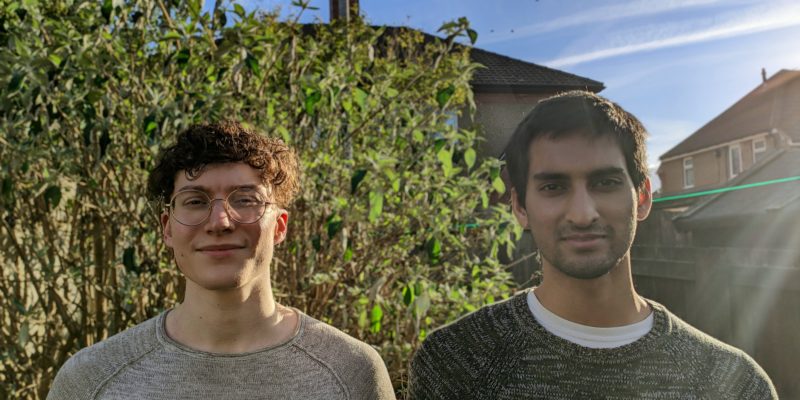 Some things make for a perfect pairing. Tea and toast. Batman and Robin. Kirk and Spock. And now Mizi and McQueen.
Meet Ibrahim Mizi and Reuben McQueen, co-founders of Bionix Technologies and partners in an innovative vegan venture, FoodForage, and another local startup to benefit from advice and support by the Durham Ambitious Business Start-Ups group (DABS).
Ibrahim and Reuben met while studying Computer Science at Durham University, and they recognised the same entrepreneurial aspirations in each other. By Year 2, they were planning a software house to develop different software for startups and did a test trading year to see if they could manage to run it alongside their university work.
Reuben said: "We knew time was going to be an issue – we needed to learn smarter and better ways of managing our time. We were also looking for helpful resources, so we could juggle study with the business side, as well as talking to potential clients. The more we networked with other business people, the more we heard them refer to DABS, so we reached out to James there, talked to him about the business and our plans, and sat in on some industry expert-led webinars on marketing, sales, legal and other business aspects.
Ibrahim explained how Judith at DABS became their personal mentor, helping with advice on how to do a business plan and funding applications.
"Judith really challenged us on our assumptions, and this kept us both on track because it's too easy to get carried away with the excitement of a startup. We still have regular meetings with her, and she keeps sending us suggestions, available training and useful contacts.
Reuben said: "We've also kept in touch with the experts doing the webinars. They have businesses of their own so it's good for them to share and discuss – and the North East has a strong tradition of businesses sharing and supporting each other, a real sense of community.
"DABS helped us realise that we wanted to build our own, sustainable business and this has now happened."
Both Ibrahim and Reuben are vegan, with a passion for responding responsibly to the impact of the food they buy and what they eat. The result is FoodForage, a free mobile app that allows the user to find and share vegan and plant-based products from local shops, with an extensive database of products. Users can also add products by searching and adding or scanning the barcode.
Reuben said: "So many people are looking for vegan and plant-based alternatives to reduce their carbon footprint, improve their health and make more ethically minded purchases. But it's not always easy finding these products or knowing what is out there to buy – and that's where FoodForage comes in."
They have been testing the app with early adopters, and the refined product will be ready for release shortly. The next steps are to follow up FoodForage with other food tech apps that focus on sustainability, as well as growing the employee numbers and developing more specialist skills.
Ibrahim recommended any startup go to DABS for advice: "DABS alone isn't going to create success for your business, but the support they offer, getting this individual support and feedback, which is completely free – that would be difficult to do on your own."
Reuben agreed: "A lot of early startups, especially tech companies, require a lot of funding to get off the ground. We didn't need to do that, we're very much inhouse – but the help and guidance was exactly what we needed."
---