DABS Festival of Enterprise
The DABS Festival of Enterprise is a free, annual event to support ambitious entrepreneurs in the County Durham region take the next steps on their business journey.
At each festival, more than 150 aspiring and new entrepreneurs to learn, be inspired, make new connections and discover all the support that makes County Durham the perfect place to develop a business.
Register your free place for next year's Festival of Enterprise on 13th October 2022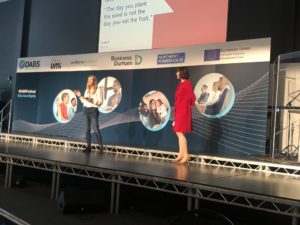 2021 Festival of Enterprise Speaker Interviews
The second DABS Festival of Enterprise took place on 21st October at the Xcel Centre, Newton Aycliffe. Our speakers inspired the audience and gave them their top tips on how to run and grow a successful business.

Enjoy the best of the 2020 Festival of Enterprise
Missed the inspirational talks from Teri Ellington, Stefan Thomas, Jimmy Cregan and Jake Newport from the 2020 event? Fear not! You can hear all about their business journey with our online recordings.