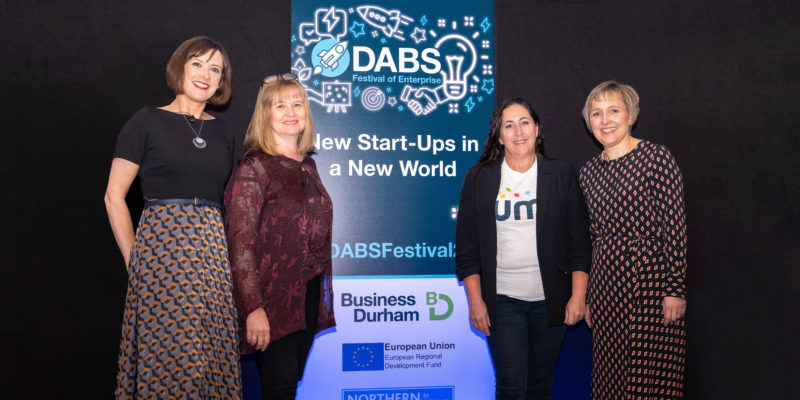 This week saw a number of County Durham's most promising start-ups come together for a day of networking, keynote speakers and first-hand advice at the annual Durham Ambitious Business Start-Ups (DABS) Festival of Enterprise, sponsored by Swinburne Maddison.
This is the 3rd year for the Festival of Enterprise and was attended by more than 100 delegates who descended the Radisson Blu Hotel in Durham on Thursday 13th October.
The full day event, hosted by broadcast journalist Charlie Charlton, focused on the theme of 'New Start-Ups in a New World' and what could be done to support leading startups pivot their businesses during the new and challenging economic environment.
Delegates also had the opportunity to learn from some of the best in the business with four expert speakers including Bradley Jensen, co-founder of Jensen and Jensen, Jack Sutcliffe, CEO and co-founder of national award-winning Power Sheds and Jeni Smith, founder of NetKno.
Discussions and highlights from the keynote speakers included how networking strategies can help people build long-term relationships, how to overcome imposter syndrome and self-doubt and why culture needs to be at the heart of all decision making.
Cllr Elizabeth Scott, Cabinet Member for Economy and Partnerships at Durham County Council, said:
"It's fantastic that so many entrepreneurs came along to this year's Festival of Enterprise, which has grown year on year. We know that hearing the stories of those working to establish a company helps budding business owners understand the pitfalls and quick wins of setting up a new enterprise.

"In this post-pandemic era new businesses need to be more innovative and agile than ever before. DABS is a unique programme to equip ambitious new entrepreneurs to tackle these challenges. I encourage anyone who has an idea for a new venture or is in the early stages of their business journey to connect with our DABS and Business Durham teams to find out about the extensive support available in County Durham."
Nicki Clark OBE, UMi Chief Executive, said:
"For myself and many other entrepreneurs, networking and being around other likeminded people is what helps us continue to thrive, particularly through the most challenging of times.

"Events like the Festival of Enterprise give start-ups the confidence and support of others that have gone through similar learnings. We were delighted with the turnout and look forward to working with Business Durham on future programmes."
DABS is an ERDF-funded programme that helps high-quality start-ups in County Durham start trading and offers premium quality support during those critical first 12 months in business. There are two support packages available – one for pre-start businesses with a great idea and the other for early-stage businesses. The programme is delivered by Business Durham, with key partners TEDCO, UMi and Candle Digital.
---